A friendly space to explore your spirituality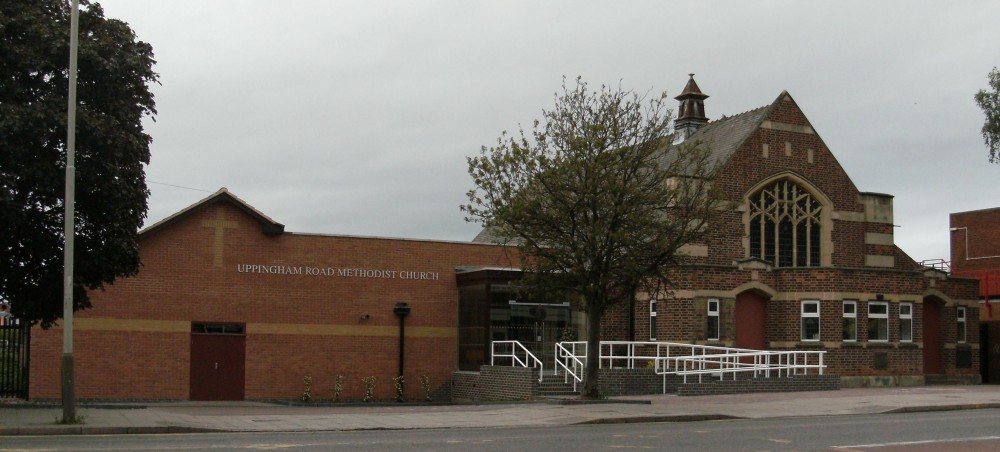 178 Uppingham Road, Leicester, LE5 0QG
Minister: Rev Saidu Kanu
---
Latest News
---

Sunday 17th July was Rev Barnabas Alexander's final service as minister of Uppingham Road Methodist Church and photos from this day can be found by clicking on this link.
---

Thanks to The Cast Offs drama group for hosting a fun quiz, afternoon tea and raffle on 25th June, and to those that came to this event to help raise money for our church funds.

There are some photos from the afternoon on this link.
---
Thanks to those in our church who have donated food for those in need in our local area. The photos below show some of our donations that have been passed on to our local food bank where they have made them into hampers to distribute. This is an ongoing project, and any more donations can be brought to church.
.
---
Regular Church Activities
| | |
| --- | --- |
| Sunday | |
| 10:45am | Morning Service with Junior Church |
| 6:30pm | Evening Service - Once a month we have united services with Wesley Hall Methodist Church and Mayflower Methodist Church, taking turns at each church |
| | |
| Monday | |
| 2pm | Vitality - An exercise group for the more mature |
| | |
| Tuesday | |
| 7:30pm | Link Up - Ladies meeting with varied programme meeting every other Tuesday |
| | |
| Thursday | |
| 9:30-11am | Stay And Play - For toddlers and their parents |
| | |
| Friday | |
| 10am-noon | Drop In - Open every Friday for coffee, tea and a chat |
| | |
| Saturday | |
| 10am-noon | Shoppers' Coffee - Rest your feet and join friends for tea, coffee & biscuits |
---