A friendly space to explore your spirituality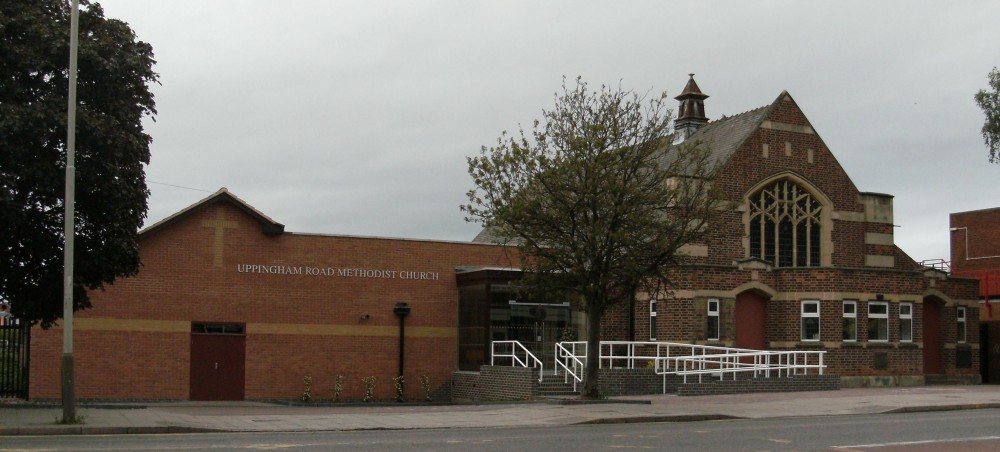 178 Uppingham Road, Leicester, LE5 0QG
Minister: Rev Saidu Kanu
---
Latest News
The Cast-Offs drama group performed 'Shrills and Tills at Fothergills' on November 24th and 25th 2017.
Click here to see photos from their performance
---
Here is a photo of our minister Saidu taking a Baptism Service recently at Uppingham Road Methodist Church
---
Thanks to the Cast-Offs Drama Group for their quiz and afternoon tea on Saturday 24th June raising money for our church.
Click here for some photos from this event.
---
The below pictures were taken at Christmas time, the first in our Junior Church nativity service, with Mary, Joseph and the donkey looking for somewhere to stay in Bethlehem, and the second was taken at our Christingle service.
---
Regular Church Activities
| | |
| --- | --- |
| Sunday | |
| 10:45am | Morning Service with Junior Church |
| 6:30pm | Evening Service - Once a month we have united services with Wesley Hall Methodist Church and Mayflower Methodist Church, taking turns at each church |
| | |
| Monday | |
| 2pm | Vitality - An exercise group for the more mature |
| | |
| Tuesday | |
| 7:30pm | Link Up - Ladies meeting with varied programme meeting once a month |
| | |
| Thursday | |
| 9-11am | Playgroup - For toddlers and their parents |
| | |
| Friday | |
| 10am-noon | Coffee Morning - Open every Friday for coffee, tea and a chat |
| | |
| Saturday | |
| 10am-noon | Coffee Morning - Rest your feet and join friends for tea, coffee & biscuits |
---